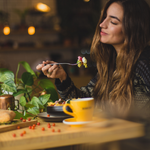 A Day in the life of an Intuitive Eater
Embracing the spontaneity of intuitive eating has not been an easy journey but rewarding nonetheless. My life was once consumed by the obsession of my next meal. What I would eat, when, and where. I turned down outings with friends and stopped enjoying the food I was eating. My need to control my food choices took my energy from all other aspects of my life. I was unsatisfied and stressed out. I slowly started making intuitive choices to honor myself. At first it was hard. I would order what I was craving but still experience guilt. Over time, that guilt lessened. Making intuitive food choices became easier with time and practice. Honoring my hunger, my fullness, my cravings, felt so good. To be in tune with myself in a way I hadn't experienced in far too long. The joy that came from honoring my mind and body has easily been the most liberating experience. I know all too well how difficult it can be to break these patterns. Healing is long and maybe never-ending, but everyone deserves to experience food freedom.
As an intuitive eater, every day looks different and brings new joys and experiences. Here is one of those days.
Keep in mind there is no right way to be an intuitive eater and it's all about what your body and mind need.
I am sharing this as an example of what it can look like to not be controlled by food but instead find joy and nourishment in it.
This is a day in MY life. What I was craving. How MY body was feeling. Therefore it will look different than your own.
On this particular Sunday, I woke up in beautiful Santa Barbara where I live and was craving a walk. I downed a big glass of water to hydrate my body after my night's rest and walked to the beach from my house. When I got back from my walk I was now hungry for breakfast so I made myself my favorite avocado toast, topped with chili flakes, salt, stryian pumpkin seeds and spicy honey. I also made myself an iced latte with oat milk.
I did some work and started packing to visit friends. Before I hopped in the car, I quickly grabbed a handful of Lark Ellen Simply Sprouted Cashews to hold me over until lunch. When I got to Ojai, home of Lark Ellen Farm, I stopped at my favorite local café Farmer and the Cook to meet with friends for lunch.
I got the cauliflower burrito (my favorite) and one of the employees came by with a cookie on the house for us to split. We shopped and walked around enjoying the beautiful day then went home to get ready for dinner. We enjoyed the yummiest veggie enchiladas from Agave Maria's and their pixie margarita of course! It was the most perfect day of friendship, shopping, and enjoying the sun. Food was there to give me the energy I needed throughout my busy day and satisfy my palette, but it did not overwhelm my thoughts. My body and mind were at ease because I listened to my intuition and honored my needs.