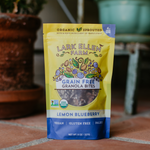 Ready for the most simple dessert or breakfast ever? 
What you need : 
1. Blueberries 
2. Lemon Yogurt ... We love Forager, Culina, and Le Grand. 
3. Our Lemon Blueberry Granola Bites 
4. Plant-Based Whipped Cream 
Layer your blueberries, yogurt, and granola and top with fluffy waves of whipped cream! Done... and devour.