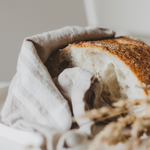 Summer Toast - Sweet & Savory
Its officially Summertime. The heat has been heavy and yet gardens are growing, the beach is there to offer solace from the sunshine. So much beauty! We whipped up a very special Summertime toast. 
Here it goes:: 
First blend up a cup of your favorite Lark Ellen granola in a food processor until it is the consistency of nut butter. This will take a while and you may need to add a hint of coconut oil to get it smooth. 
Then sauté your favorite veggies in olive oil, salt and pepper, and spices. Set aside. 
Take two slices of toast and spread the granola butter onto one piece. Spread the Lark Ellen pate of your choosing on the other.
Top the granola butter piece with sliced bananas, or any other fruit you enjoy. Drizzle with maple syrup or honey.
Top the almond pate piece with the sautéed veggies. Finish with chopped herbs. 
The perfect combo with bites of savory and bites of sweet! What we live for! Happy Summer beauties! xo