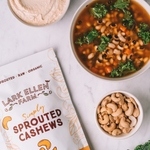 Black-Eyed Pea Soup with Cajun Cashew Cream
Black-Eyed Pea Soup with Cajun Cashew Cream
Ring in the New Year with a comforting bowl of Black-Eyed Pea Soup with Cajun Cashew Cream! A vegan spin on a traditional Southern meal, this hearty soup is made with kale, a savory broth, and layers of herbs and spices.
The Cajun Cashew Cream is made with our Sprouted Organic Cashews and blended into a smooth, creamy sauce that melts into the broth for even more richness. 
How to Make Vegan Black-Eyed Pea Soup 
Although this simple soup is made with just a few ingredients, it's deliciously flavorful thanks to smoked paprika, fresh thyme, and other aromatics. 
To make the soup, saute carrots, celery, shallots, and garlic before adding black-eyed peas, vegetable broth, and spices. The paprika gives the soup a spicy and subtly smoky taste, while dried oregano and fresh thyme add balance and earthiness. 
Bring the soup to a boil, turn off the heat, and add some chopped kale. Serve hot with a big dollop of Cajun Cashew Cream!
How to Make Cajun Cashew Cream
To make the cashew cream, blend pre-soaked cashews in a high power blender or food processor with water, lemon juice, apple cider vinegar, and cajun spices until completely smooth and fluffy. The lemon and apple cider vinegar will give the cream some acidity to balance out the rich, smoky spices and natural sweetness of the cashews. 
You can make the Cajun Cashew Cream in advance and store it in an airtight container in the refrigerator for up to three days–just make sure to stir well before serving, as it will begin to separate over time. 
Soaking Cashews 
To pre-soak the cashews, place them in glass jars or bowls and cover with filtered water. Put them in the refrigerator and let soak for at least 4 hours or overnight, then drain completely.
If you don't have enough time to pre-soak them, simply place the cashews in a bowl and cover with boiling water to quick-soften. Let sit for 20 minutes before draining. 
Serving Suggestions 
This recipe can be made as a cozy, comforting meal on New Years Eve or New Years Day–or enjoyed all winter long! Serve it with bread, rice, or cornbread for a traditional Southern-style lunch or dinner. 
Black-Eyed Pea Soup with Cajun Cashew Cream
For the cajun cashew cream: 
1 cup Lark Ellen Farm Sprouted Cashews (unsalted), soaked 4 hours or overnight
1/2 cup water
1 tsp lemon juice 
1 tsp apple cider vinegar 
1/2 tsp smoked paprika
1/4 tsp garlic powder 
1/4 tsp pepper
Pinch of oregano 
1/4 tsp kosher salt 
For the soup: 
2 tbsp olive oil
1 large carrot, finely diced 
2 stalks celery, finely diced 
2 shallots, finely diced 
½ tsp kosher salt
2 cloves garlic, minced 
2 cups black-eyed peas (either pre-soaked or canned)
1 tsp smoked paprika
1/4 tsp dried oregano
1 tsp fresh thyme, minced
4 cups vegetable broth 
2 cups chopped kale 
Freshly ground black pepper 
Make the cajun cashew cream. Add the soaked cashews, water, lemon juice, apple cider vinegar, smoked paprika, garlic powder, pepper, oregano, and salt and blend until smooth and creamy. Set aside.

Heat the olive oil over medium heat in a large pot or dutch oven. Add the carrots, celery, shallots, salt, and a few grinds of black pepper. 

Sauté for 5 minutes until softened, then stir in the garlic and cook for one more minute. Add the black eyed peas, smoked paprika, oregano, thyme, and the vegetable broth. Stir well and bring to a gentle boil, then reduce the heat and simmer for 10 minutes. 

Turn off the heat and add the chopped kale, stirring well until completely combined. Season to taste with salt and pepper. 

Serve hot with a dollop of cajun cashew cream. Enjoy!