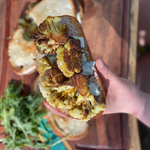 Cauliflower Sandwich with Original Pâté
YUM //  We may or may not have made the best sandwich creation of all time. Garam masala and curried cauliflower with a cucumber + mint and yogurt relish all with perfect smears of our
original Pâté
. Simple. Divine. Perfection. 
_________________________
The Goods // 
For the cauliflower//
* 1 large cauliflower Cut into steaks, some will fall apart, that's okay. 
* olive oil 
* 2 teaspoons garam masala 
* 3 teaspoons curry powder 
* 4 minced garlic cloves 
* pink salt and pepper 
For the Cucumber relish// 
* 1 medium cucumber cut into thingy sliced quarters
* 2 tablespoons vegan plain yogurt or the
Primal Kitchen
avocado vegan Mayo. 
* 10 mint leaves minced 
* a sprinkle of garlic powder or freshly minced garlic 
* pink salt and pepper to taste 
__________________________
Get Cooking // Rub your cauli steaks with spices and olive oil. Roast in a 400F oven for 30-40 minutes or under golden, caramely and so very tender. While they are roasting whip up your Cucumber relish by mixing all ingredients in a small bowl. Garnish with a little more mint. Grill your bread. Slather each side in some vegan Mayo, this gives the PERFECT golden crust... I am not lying. Do it. Smear each side with some almond Pâté once off the grill. Layer on your cauliflower steak, cucumber relish, and some fresh arugula if you have it. Close your sandwich with the other piece of bread and Pâté. Cut in half... devour. No one will know it's vegan. People will think it's curried chicken. It's mind blowing. Fair warning you will be making this often. We hope you are celebrating #veganuary, we are passionate about being a plant based company! Enjoy.